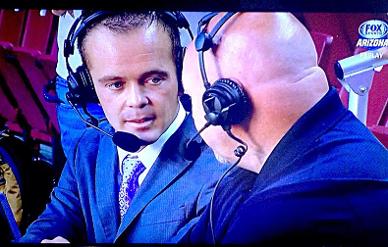 "Adam Young is a total pro! I was lucky to have him when I was at NM State. Total commitment to preparation which leads to flawless execution on the air. AY is a HUGE part of the Aggie Baseball program. He's a star!"
-Brian Green, Washington State Baseball Head Coach
"Adam, your work is outstanding. Your mechanics are all in place ... voice, excitement level and pacing. Very good! The talent is all there. Keep up the great work!"
-Bob Rathbun, T.V. Voice of the Atlanta Hawks
"Adam, I really enjoy your work! Pacing and descriptive nature of your play-by-play is very good. Your enthusiasm is genuine! My only word of advice would be patience..you are very talented..good things will happen!"
-Mike Kelly, Voice of the Missouri Tigers
"Adam, I am very impressed by your progress at such a young age. You have a clear and resonant voice which will serve you very well. It is obvious that you are at ease with both the game and your prepared material. Your delivery is very good and your preparation is obvious. I have worked with a few very talented and motivated young broadcasters. You certainly have more than enough talent to have great success in our business."
-Jim Paschke, T.V. Voice of the Milwaukee Bucks
"Adam, I checked out your site..love your stuff. You'll make it big..just keep plugging away..."
-Dave Popkin

, ESPN & Radio/TV PxP Seton Hall U.
"Adam, your timing, tone and phrasing jump out at me..very stylized for such a young guy. You have an old school sound and style beyond your years. I like that. You know your rhythm and cadence."
-Dave Sims, T.V. Voice of the Seattle Mariners.
"He's rare..no matter the capacity you remember Adam. Not just for his outstanding voice and skills as a broadcaster, but as a person..."

-Scott Cummings, McKendree University Sports Information Director

"Adam Young has demonstrated the ability to cover and convey play by play with professionalism. He 'gets it'...embracing the understanding that preparation produces an informed and fun broadcast."
-Dewayne Staats, T.V. Voice of the Tampa Bay Rays

"I'm quite sure one of these days I'll tell people I remembered Adam Young when..."
-Randy Lee

, Voice of Western Kentucky University
"Adam, how old are you? I listened to your audio and it's VERY good. Great job..I like the clarity, your tone and the passion..excellent job."
-Chuck Swirsky, Radio Voice Chicago Bulls
"Adam Young has a beautiful voice, very good mechanics and the drive to succeed...he will be a star somewhere one day!"
-Marc Zumoff, T.V. Voice of the Philadelphia 76ers
"Adam, I must say you sound very good! I get a lot of requests from young people to critique their work and you are one of the best I've heard. You have very good energy, which I think is important, especially in basketball. Your energy is very controlled, which is what we should always strive for. You do a very good job of giving the score or the lead differential. Keep that up. You also have a very good use of basketball lingo. You have a very bright future!"
-Jerry Schemmel, Radio Voice Colorado Rockies
"I will enjoy watching Adam Young become a big name in the sports broadcasting business. He's already grown tremendously in a short time because of his work ethic and willingness to learn. Now the sky is his limit and any future employer will reap the benefits of his talent and desire to do the job right."
-Tom Calhoun, PA Announcer St. Louis Blues (NHL)
"Adam, I've been on your website and it's excellent. You have done a terrific job of presenting your work. Your tapes are solid and you display a good voice, comfortable style and excellent description of the action. I think you will have an outstanding career. Your work ethic is at the top of the chart and that will carry you far."
-Bill Brown, T.V. Voice of the Houston Astros

"Adam, I gave your play-by-play a listen and was very impressed. I thought your hoops audio was great. Crisp, clear and concise calls of the action. I like your style. Just the right amount of excitement on the big plays. Pacing was very good. You also do a nice job of using different inflections in your voice to punctuate a big play without going overboard. You have a very bright future."
-Mario Impemba, Radio Broadcaster - Boston Red Sox
"Adam Young has all the intangibles to become a play-by-play star. His passion and work ethic are unmatched, and his desire to learn is exemplary. Our business needs more people like Adam Young."
-David Brody, Talent Coach Broadcaster Marketing Services