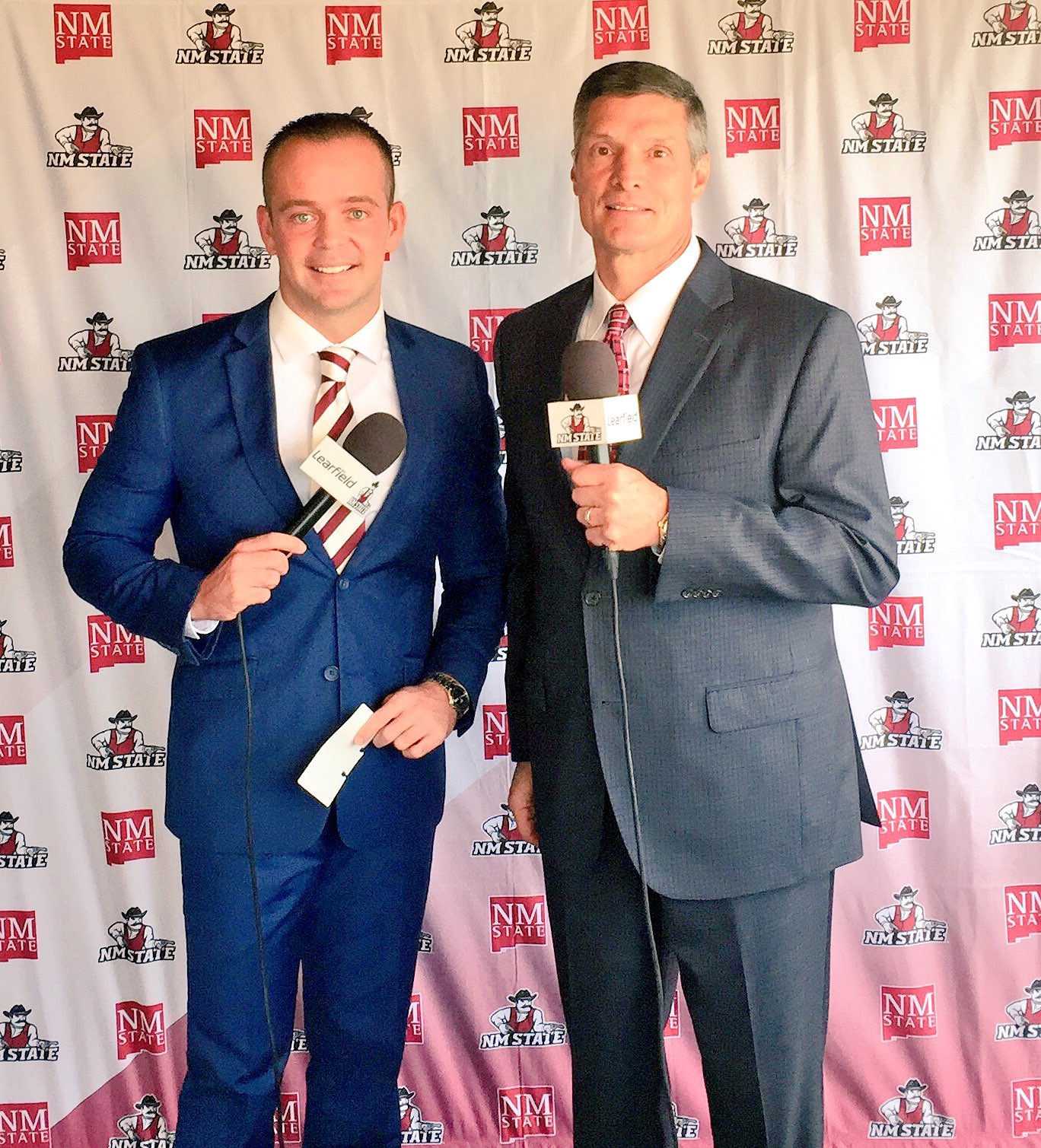 *MEET ADAM YOUNG*
Adam Young is an award-winning Sports Broadcaster, currently serving as a TV/Radio Sportscaster for New Mexico State University (Division I / WAC). Young calls Football, Basketball, Baseball, Volleyball and Softball on TV and Radio, while also serving as the host of the weekly Radio coaches show on the Aggie Network from Learfield. TV games air on the likes of FOX Sports Arizona, FOX Sports Southwest, FOX Sports Oklahoma, FOX Sports Pacific, FOX Sports Atlantic, FOX Sports New Orleans, Altitude Sports, Comcast Regional, Eleven Sports and ESPN+.
The 30-year-old also works as a freelance play-by-play broadcaster, filling in on Oklahoma Sooners broadcasts on Sooners Sports TV, airing on the likes of FOX Sports Oklahoma, Southwest and other FOX Sports affiliates. Adam also serves as a play-by-play broadcaster for the Western Athletic Conference Championships for MBB, WBB, Volleyball, Baseball and Softball on ESPN3. In addition, Adam fills in on the radio for the Triple-A El Paso Chihuahuas (San Diego Padres affiliate).
Young is originally from the St. Louis, MO area. On the air at the age of 17, he got his start reporting news and sports at WSIE-FM radio in Edwardsville, IL.
From there, Young made the jump at the age of 18 to the St. Louis Cardinals pregame show on KSLG-AM radio in St. Louis, where he handled the role of "Cardinal Reporter."
Throughout his college years, Young prospered on the sportscasting scene, thus earning recognition
as one of the Top 20 collegiate sportscasters in the nation by the Sportscasters Talent Agency of America (STAA).

From 2011-2014, Young juggled numerous assignments in the St. Louis area. He was tabbed in September 2010 as the 'Voice of the Gateway Grizzlies' Professional baseball team and held that role until August 2014.
In addition to his duties with the Grizzlies, Young served as a play-by-play broadcaster at Division I SIU Edwardsville (Ohio Valley Conference). Young also handled Play-by-Play and PA Announcing duties at Division II McKendree University and did freelance work for Division III Washington University-St. Louis Athletics. In addition, Adam previously handled Public Address Announcing for Saint Louis University Division I Volleyball and Women's Basketball (Atlantic 10) and filled in calling Division I Men's Basketball Play-by-Play for Learfield.